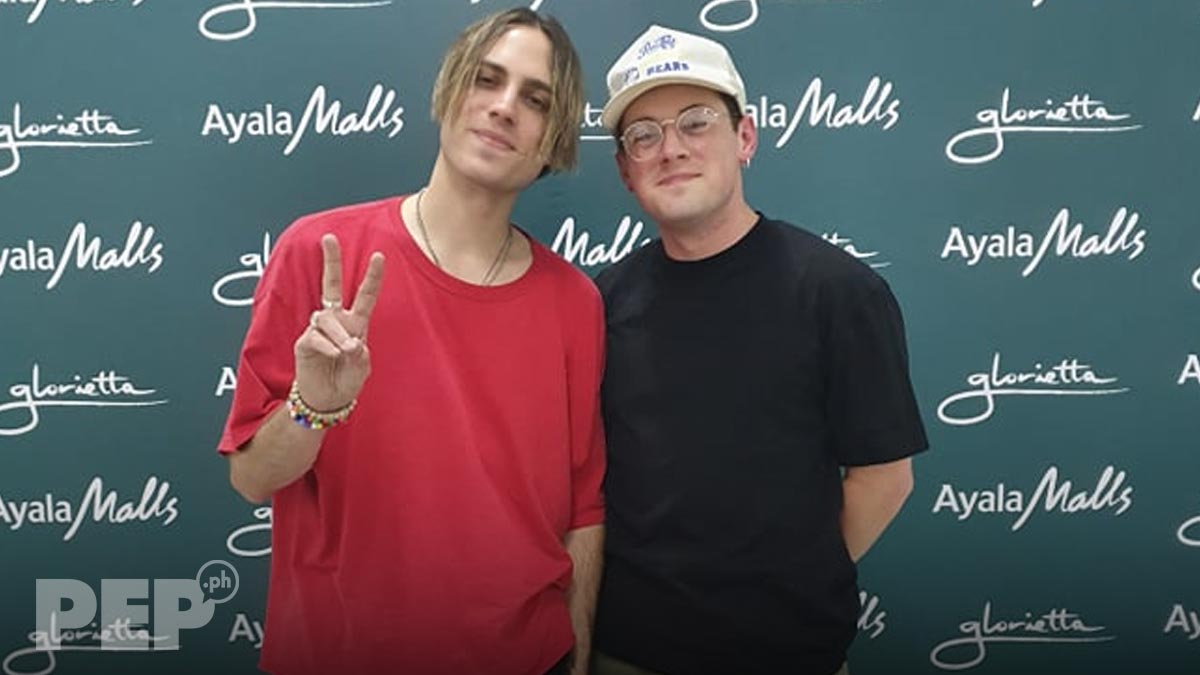 American group Joan delighted with warm welcome from Filipino fans
American group JOAN — composed of Alan Thomas and Steven Rutherford-were overwhelmed by the warm welcome they received from their Filipino fans.
The Arkansas-based duo told PEP.ph (Philippine Entertainment Portal) and other members of the press that they "never imagined" having thousands of fans on this side of the world.
JOAN returned to Manila for a series of shows at Ayala Malls from November 7 to 13, 2019.
This is the second time the group has visited the Philippines in 2019 after their performance at the Wanderland Music and Art Festival last March in Alabang.
Alan said: "I feel like when we got the call for Wanderland we were like, 'Does anyone know who we are over there?'
"We can see like the Spotify data and see a bit of where the countries are and I'm pretty sure Quezon City… is, I think, our best streaming city in the whole world.
"We found that and we were like, 'Oh, we have fans over there!' I never imagined that we would fly and be known here, but I was like [expecting] you know, 50 people.
"I don't expect to see thousands of people listening to our songs. It was very strange and very impressive."
PEP.ph interviewed JOAN on November 7 at Wake up the season at Ayala shopping malls event in Glorietta, Makati City.
JEANNE'S MUSIC
Joan was formed in 2016. Alan and Steven were members of different groups before deciding to form a duo.
Some of their popular songs are "I loved you first", "love someone like you", "Ease your mind", "Tokyo", "drive all night" and their first single, "take me on ".
Members of the press asked the two musicians to describe their musical creation process.
Alan pointed out, "Most songs, we start with a voice memo or something on the iPhone. It will come to my house and we will start writing, just collaborating with each other.
"Like maybe I'm working on the sound and he's working on the lyrics, and vice versa or something like that.
"We just take idea by idea and a lot of times we'll start with a song. It's like a verse and a chorus and we'll sit on it for weeks and until we can finish it or whatever. 'other .
"It's a lot of texting, we'll keep exchanging ideas, and then I'll come back to that. It's very collaborative."
For his part, Steven said they basically stick to a routine: "We treat it like a work day, nine to ten hours. [a.m.] love five [p.m.] every day we go to the studio and work on the songs. "
Alan added: "It's like a full time job which is good because it makes us feel more productive."
When asked to identify their sources of inspiration, Alan said he was inspired by music producers such as Mike Crossey and Louis Bell.
He explained, "We're a bit of a nerd on production credits, so like most people love, the new song from Halsey or Justin Bieber or whoever it is is what they think of.
"But who wrote the song behind the scenes, who produced it, mastered and mixed it. Personally, I was inspired by a couple of producers recently."
Steven said that exploring the world inspires them as well and influences their music.
He said: "Traveling … discovering more cultures than we've ever seen before. Even in America or Europe, places we've never seen before. It's always very cool and very inspiring too. . "
Alan also named Coldplay his all-time favorite band. He dreams of becoming the first part of a Coldplay concert.
He said, "If we could open up to anyone in the world it would be Coldplay. It's like my all-time favorite band almost always. I send a lot of prayers for that one.
Steven said he loved working with Honne.
He told reporters, "Honestly, playing with Honne is awesome. We were so thrilled when we got that call. I've been listening to Honne for about three years now.
"We were fans before Joan even existed."
NEW MUSIC
Meanwhile, Joan revealed that they are already working on new music.
Alan revealed: "We don't have any formal announcements but we definitely got back into the studio and recorded a lot of new songs.
"So we're trying to figure out how we can release them and right now we can release an album or you can release a single or you can release an EP.
"It's kind of up to you to decide whether traditionally we've enjoyed releasing singles and EPs, so we're probably going to stick with that for a little while. And yes, definitely some new music to come."
Apart from the new songs, they are also excited about their very first headlining tour in 2020.
Alan continued, "And we just announced our headlining tour next year, next February, so we're really excited about that."