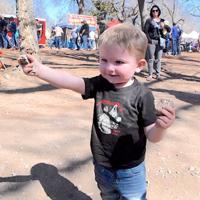 American Music Ends Winter with Warm Open of Parkstomp | News
MEDICINE PARK – Saturday's daily opening of this year's 12th annual Parkstomp sent winter on with the strains of American music and good vibes.
Hitchin' Post Park, next to the Medicine Park Tavern, has a natural amphitheater perfect for fans and musicians.
A newly constructed "permanent" temporary main stage under the canopy of trees made the perfect setting for Saturday's opening band, Brad Fielder and The Empty Bottles Boys nailed the essence of what Parkstomp is all about. With fiddle strains and tuba-powered basslines, they seemed to step out of the Dust Bowl era to entertain a large crowd.
Rows of lawn chairs lined the slope of the park and provided a great view and even better sound throughout the park.
Ripp Fentress, 1½, of Elgin, explored the soft ground surrounded by a long row of vendors. After making a discovery, he lifts a rock to show his mother a preference for "rock" over the bluegrass-inspired sounds around him.
It's a festival to delve into the roots of American music. Its two-day lineup of top alt-Americana bands from that region is a sure bet to attract new fans among the thousands who pass through Medicine Park this weekend.
But not everyone is locally grown. Tim Slocum and Miranda walked towards the music emanating from the park. Having traveled from Eureka Springs, Ark., the pair were there to support their local band which would take the stage later that evening, Eureka Strings.
"Of course we're here," Slocum said. "You have to support the homies."