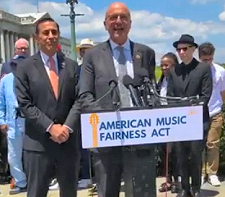 American Music Fairness Act presented by two senators
American Music Fairness Act presented by two senators
Representative Darrell Issa and Representative Ted Deutch
Rep. Ted Deutch (D-FL-22) and Rep. Darrell Issa (R-CA-50) were joined on Capitol Hill by several performers today, including Dionne Warwick, Sam Moore and others, to present the 'American Music Fairness. Act. The legislation would impose a performance fee on local radio stations for streaming live music, which is currently exempt in exchange for promotional broadcast.
The American Music Fairness Act "will ensure that music creators are compensated when their music is played on FM / AM radio stations," including imposing a per-play fee on the recording side.
In a statement, NAB Chairman and CEO Gordon Smith said: "The NAB strongly opposes the American Music Fairness Act or any imposition of a royalty on the performance of local radio stations and support the careers of countless artists, promote album sales and streams, and help foster a strong music-making environment that is the envy of the world.
"We thank the 138 representatives and 18 senators who currently co-sponsor the Local Radio Freedom Act, which recognizes the long-standing connection between radio and the music industry and the great service that local radio provides. to local communities every day.
"Broadcasters remain open to working with record companies to achieve a comprehensive and reasonable solution to this problem which reflects the incredible value local radio provides to musicians, record labels and our millions of live listeners and online. It's unfortunate that the recording industry refuses to have these discussions. "