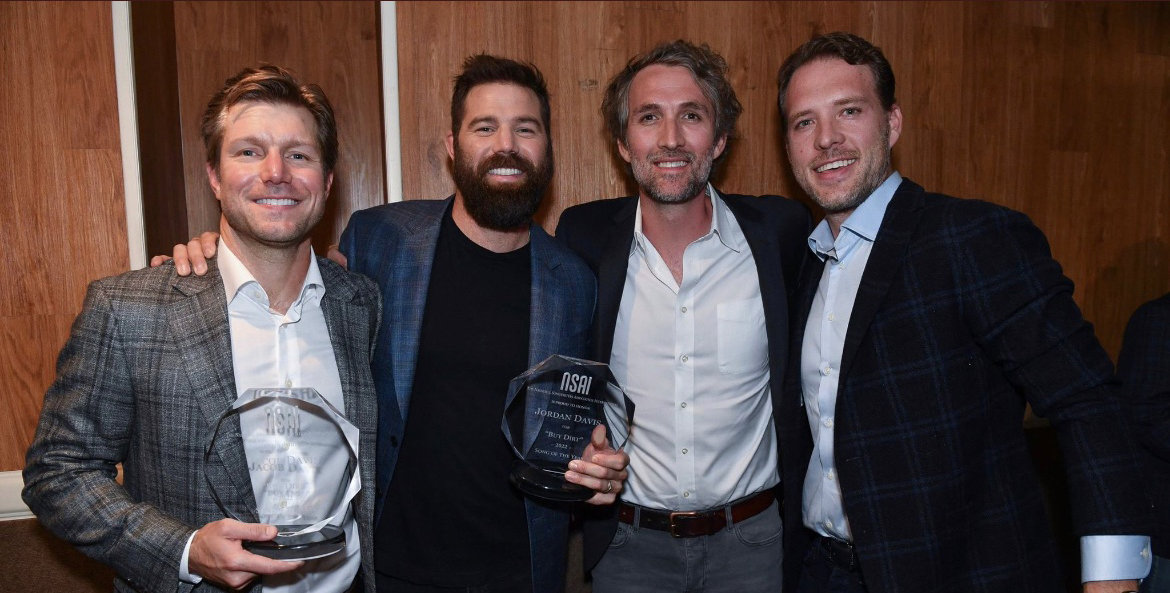 Former Bearcats Write Music America Loves
Matt and Josh Jenkins always have fun hearing people sing one of their songs.
The Aledo-based brothers grew up in a home where their father and fellow songwriter, John Jenkins, nurtured a passion for country music from an early age.
After writing or co-writing hits like "Fancy Like" and "Buy Dirt," the duo now live in Nashville. On Sept. 21, the Jenkins brothers, along with Jacob and Jordan Davis, collectively won Song of the Year for their hit "Buy Dirt," at the fifth annual Nashville Songwriter Awards.
Matt Jenkins, 39, said the song's genesis came from a piece of advice he received.
"We were actually on a writing retreat with Jordan and his brother during Covid," Matt said. "And we went there and we were just talking about family. We were talking about faith and important things. And I'd heard someone say the line, 'Buy dirt, they don't do it anymore,' so we were like, 'Hey, that's a good idea.'"
"Buy Dirt" was also nominated for American Country Music (AMC) Song of the Year and Matt said he felt it would resonate with people.
"It was just personal," Matt said. "I think with those kind of songs, you don't really know what's going to happen, but you just say, 'Man, I really feel like we captured that emotion in that song,' whatever. he is coming."
Jhe Jenkins brothers moved to Aledo from Haltom City when they were in eighth grade in what Matt described as a "very musical family," and he credits the move for taking his and his brothers' lives to the next level. their current path.
"I don't think we would have known high school life or probably been who we are without moving to Aledo," Matt said. "And just the community, the support…it's just a different environment, you know?"
The Aledo brothers have been writing songs since they were 11 or 12 years old and have composed over a thousand tracks between them.
Matt said what draws him most to songwriting is watching the effect it has on people.
"It's helpful for us, when you see someone and really make that connection," Matt said. "It's like 'man, this is amazing.' That's really what it's all about, so I think that puts some wind in your sails because, to be honest with you, the company can take that away from you. to lose your pole star a bit.
"So I think when you see someone singing or dancing to a song that you wrote, you're like 'oh, that's why we're doing this. ""
Josh Jenkins, 37, collaborated with Walker Hayes on the song that anyone who has recently attended a sporting event or seen an Applebee commercial will immediately recognize.
"Fancy Like," which peaked at number three on the US Billboard Hot 100 at one point, evolved from a relatively casual conversation the two friends had last summer.
"I've known Walker for probably six or seven years," Josh said. "We just became friends and had a lot of fun, and we've been collaborating for a while. It was one of those days, post-COVID, kind of getting back into the room early with everyone.
"Walker started talking about how people think he's an artist and how as an artist people assume you ride big and eat at the best restaurants – and he has six kids. He said 'man, to be honest with you, we just kinda roll Applebee's or Waffle House. We're just low key and he was like, 'let's write something about it' and so that kind of 'Fancy Like' spawned.
The song eventually went gold and platinum, and Josh said that one of the aspects of the song he enjoys the most is how it incorporates styles of music other than country.
"I grew up like Walker," Josh said. "I grew up in a product of the 90s, so I was around rock and pop, and my dad was a country songwriter, so country was always in the spotlight. But I also grew up around hip hop and rap, so it's kind of been a bit of all of that. I've always enjoyed it and really enjoyed the diversity of music when I was a kid.
"So from a creative point of view, it's fun to work with artists who have that kind of palate – you can do several different things. That's what I love about working with Walker, he can kind of mold all of these worlds together and make it his own thing.
Josh said songwriting was a lot like fishing to him, in that "You just show up and throw your line in the water and some days you catch something and some days you don't", but also added that with "Buy Dirt", he, like Matt, felt that was something different.
"'Buy Dirt' felt special from the day we wrote it," Josh said. "There are plenty of days where I feel like, 'Man, this could be something special. I see it working well. But, I mean as a songwriter, this journey is so unpredictable… for the most part, do you believe in what you're doing? You have to believe in these songs. Some of them, in fact, most of them never see the light of day.
"But you have to like to write and keep your head down and keep looking for magic and believing, and the songs will find their way.