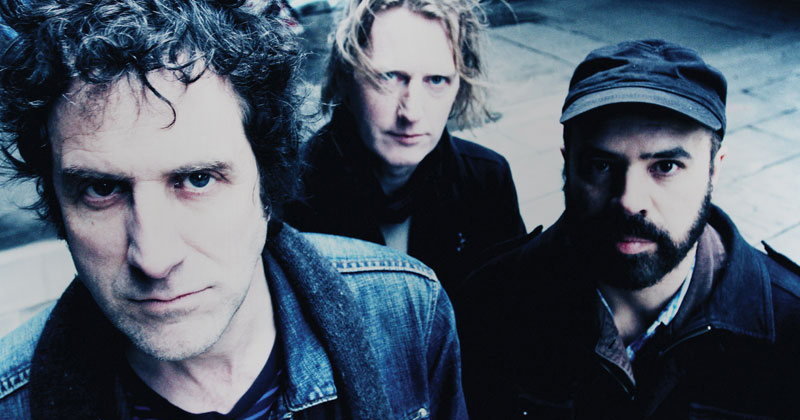 Great Britain's best American band Swervedriver rolls again | Music
[ad_1]
For most children growing up in the United States, life begins at age 16. With the keys to a car, a few friends, some great music, and some time to kill, the possibilities seem endless. Remember?
Swervedriver does it. In the '90s, the Oxford, England quartet showed that teens across the pond weren't all that different – and the model reunited in 2015, roaring in Nashville on Monday for a concert at Exit / In, reaffirms that the liberating feeling of open the road is something you never go completely beyond.
Speaking of their name, Swervedriver – or the Swervies, as their fans know them – made some of the best driving music of all time. Have you ever heard "Son of Mustang Ford"? If not, find a copy of the band's 1991 debut album, Raise ASAP, take the nearest highway and fire up that car stereo. Powered by the evocative chorus "I've been driving for days now, I drive for pain relief", "Mustang Ford" is an urge to travel in song form, its tailor-made riffs for the aerial guitar and its furious fills perfect for the piloting. wheel drum.
Frontman Adam Franklin traces the recurring motif of the car back to the formation of Swervies in 1989. "We used to drive while listening to tapes in cars," he told Scene, speaking over the phone. . "But while 'Mustang Ford' might have been about a car, it's actually about a love story gone wrong. The driving credentials were just something to hold onto. . a living identity that people have carved out. "
Swervedriver is often considered one of Britain's most American bands, and its high-powered sound – part Shoegaze My Bloody Valentine, part Hüsker Dü noise-pop – was the era of flannel and feedback at its best. . Thanks to the radio and MTV broadcast of "Duel" and "Last Train to Satansville" – singles from their second best-selling album, 1993 Mezcal Head – and tours with alternative rock favorites Ride, Hum and Shudder to Think , they found an enviable balance between business success and independent credit.
Franklin's scorching six-string duels with Jimmy Hartridge provided listeners with plenty of thrill, but his ultra-melodic, unspoiled voice – think Elvis Costello for the post-grunge era – was Swervedriver's ace in the hole. They're why Raise and Mezcal Head hold up so well, and why this year's latest addition to the catalog, I Wasn't Born to Lose You, isn't just a nostalgic trip.
The new LP – the Swervies' fifth overall, but the first in 17 years – has been in the works since 2008, when the group first broke their ten-year silence. They had walked through the '90s but found themselves at a stalemate in 1998, ended with label issues and "a loss of general direction," in Franklin's words.
The prolific singer-guitarist spent the months of August reveling in the creative freedom that life as a solo artist offered, experimenting with keyboards under the pseudonym Toshack Highway and launching a new project with drummer D 'Interpol, Sam Fogarino. Dubbed Magnetic Morning, the duo recorded their first feature film AM in East Nashville in 2008.
Although he's never short of ideas – he's made five more albums since collaborating with Fogarino – Franklin finally realized he had missed the adrenaline rush of performing live with his old man. group. "I fell in love with the electric guitar for a while," he says, "but I fell into it again."
After the 2009 solo effort Spent Bullets – which sounded oddly Swervedriver-esque – Franklin reunited with co-founder Hartridge, bassist Steve George, and drummer Jez Hindmarsh, and one thing led to another: an appearance. at Coachella, a sold-out show at the Scala club in London, an Australian tour in which they performed Raise front-to-back on her 20th birthday, and finally, a new record.
"The Raise tour brought us back to the source," says Franklin, 47, "and I started to imagine what album we could have done, maybe even before Raise. We wanted to. [Wasn't Born] to have different angles, but with the same kind of flow and sound that Raise had. "
Mission accomplished. The new batch of songs roam familiar sonorous highways – the singing "Last Rites" on the A side and the high-flying debut single "Deep Wound" seem particularly frozen in time – but the band hasn't forgotten that half fun on the road – the trigger is lost. The introductory track, "Autodidact", is one of the most dreamlike tracks they've ever written. Closest psychedelic "I wonder? Explores the knottier side of shoegaze. The little gem from the latest album "Red Queen Arms Race" even flirts with Sabbath-style stoner rock.
At 49 minutes for the most part mid-tempo, the comeback drive doesn't run at the same frenetic pace as the band's unbeatable debut – better suited, perhaps, for zigzagging through city streets than landing it on freeways – but what was not born lacks speed, it makes up for in nuance, reestablishing Franklin and his friends as master craftsmen of strong-grip pop-rock and at ease in the studio.
Those who already love the band will love the album, but to consider it fans is to damn it with slight praise. Where the Swervies 'punk gaze might have been an anomaly in the' 90s, modern descendants like Philadelphia's Nothing, London's Cheatahs, and Nottingham's Amusement Parks on Fire suggest they were still ahead of the curve.
Even with his young years of coasting in the rearview mirror, Franklin still finds poetry in these vast, open landscapes, relishing the rides as much as the shows themselves.
"I have always loved the sight of a moving vehicle."
Send an email to [email protected]
[ad_2]