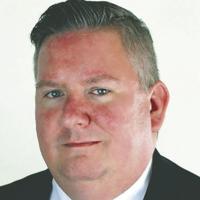 Reporter's Notebook: We are an American group | Journal-news
In many ways, the 2022 legislative session has been more stressful than other sessions. But this year I was able to participate in something very unique that I will remember all my life.
On Thursday, March 10, I joined a bipartisan group of legislators from the West Virginia Senate and House of Delegates for the first of what we hope will be annual legislative jam sessions.
I don't know who first came up with the idea of ​​bringing together musicians from the Legislative Assembly, but Del. Todd Longanacre, R-Greenbrier, was the first to announce the event from the floor of the House a week before the event. The jam session was moved to the evening of March 10 due to the twice-daily floor sessions taking place to get the bills out.
Among the participants were myself on bass and Longanacre on drums. Guitarists included State Senator Mark R. Maynard, R-Wayne; Of the. Chad Lovejoy, D-Cabell; Del Joey Garcia, D-Marion; and Del. Mike Pushkin, D-Kanawha. Of the. Guy Ward, R-Marion, was also on bass.
No one really knew how it would turn out. Heck, I didn't even know if I would be allowed to participate. Lawmakers were notified, but there was no indication whether journalists could also block. Some members of the press despise this kind of fellowship with people we also need to cover.
However, I come from the Nate Wooley School of Journalism, where a reporter might as well write a critical morning piece about a government official and break bread with that same official for lunch. Business is business and personal is personal. That doesn't mean I won't come the next day and write an article that a legislator probably won't like. But I also think that we are all human and that we need moments of humanity.
This legislative jam session was truly a moment of humanity, especially that evening. This was just after the House of Delegates debated for nearly two hours Senate Bill 498, the bill dealing with the discussion of matters derived from critical race theory. The rhetoric flared up. Giant picture prints showing controversial footage from the nation's complicated past involving race were displayed.
An amendment by House Education Committee Minority Chairman Sean Hornbuckle, D-Cabell, that would have created a commission of higher education officials to help create a curriculum to talk about race and history was not considered relevant to the bill. At one point, Hornbuckle, one of three black lawmakers in the House, was ordered to sit down. Other members of the Democratic minority tried to challenge the acting president's decision at the time.
The bill passed, but Democratic lawmakers demanded that all bills be read in their entirety instead of being summarized. It's a right that all legislators have, but it's usually only used in protest and to slow things down. The move ended up causing the majority to move the remaining bills to the active schedule and adjourn for the day.
The drama pushed the jam session back to after 7 p.m. House members from both parties were stressed, upset and angry after Thursday's debate. Many returned directly to their homes or returned to their hotel rooms. It was unclear if anyone would still show up for the jam session on stage at the West Virginia Culture Center.
When I walked in, bass guitar slung over my shoulder and amp in hand, Longanacre and several lawmakers were seated enjoying some refreshments. A few more arrived a bit later and we started to take the stage – the same stage used by Mountain Stage. The stagehands hooked us all up to the PA system, we tuned our instruments, the soundman set our levels and we started playing.
I come from a family of Oneness Pentecostal musicians. I've always known how to sing, but I'm not a great bass player. I'm not even a good bass player. I played more in my youth and I'm just dabbling these days. But as long as I know the key, I can usually find the changes. As neither of us had played music together it was a learning experience but we quickly found our groove on several songs.
Longanacre is probably as right wing as Pushkin is left wing and I suspect they don't talk much during the session. But on stage, Pushkin — a legit professional musician from Charleston — became the song's de facto frontman, while Longanacre kept a really good beat on drums. The rest of us were able to follow along, find key changes, and play.
After the stress of Thursday and the general stress of the session, the jam session was just what was needed to appease the wild beast. There were delegates, senators or journalists on the stage. There were no Republicans or Democrats on stage. We were just people who liked to play music together.
Longanacre named the band Cheap Purple: cheap because we were all (mostly) amateurs, and purple because the red Republicans and blue Democrats got together. The joke is that assuming all elected members on stage return to Charleston next year, we will learn three songs during the session and perform those songs.
It was truly one of my favorite moments as a state reporter.