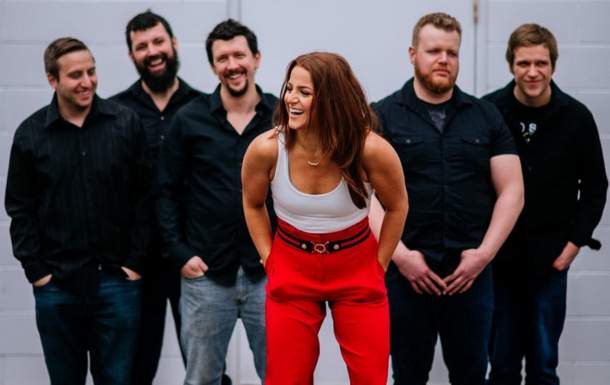 The Company Stores release "The Family Album", produced by Robert Mercurio of Galactic – 1st single released
The Company Stores independently publishes The family album, their third album, on September 23. The powerful and sensual voice of lead singer Ileana Ille captivates audiences with her ability to express raw emotion, as the band brings together many influences to create bold grooves amid dynamic crescendos. "This album is about family," says Matthew Marks, the band's lead lyricist. "It's about understanding the triumphs, failures, trends and choices of those who came before you, in order to understand how to successfully navigate where you are going."
Based in Charleston, WV, the group mixes elements of rock and roll, jazz, funk, world music, Appalachian folk, gospel and other soulful roots music with soaring harmonies, electronic textures, strings and horns over a solid rhythm section. Besides the vocals of Ille and Marks on guitar, The Company Stores features Michael Micucci on bass, Joseph Cevallos on violin and trumpet, Matthew Jackfert on keyboards, vibes, trombone, among other instruments, and John Query on drums .
The family album was produced by Robert Mercurio, bassist of New Orleans funk legends Galactic. Instrumentation was recorded by Julian Dreyer at Echo Mountain Recording in Asheville, NC. Mercurio stepped in as an engineer to record the vocals at Galactic's Number C Studio in New Orleans, including bringing in the Josh Kagler Choral Group to enhance the choruses on much of the album. The album was mixed and mastered by Mikael "Count" Eldridge [Trombone Shorty, DJ Shadow, The Revivalists].
Mercurio said, "As a producer, I feel like I've seen this band grow tremendously as songwriters through the process of creating this album. We started working on it before the pandemic, and with their downtime, they put in the work to make some great songs. Illy became the rock star she is now, crushing vocals with every take. I am very proud of the final product and had a lot of fun working with each of them. With his own band, Mercurio has production credits with an impressive roster of artists, including Big Freedia, Lyrics Born and Karl Denson's Tiny Universe.
The company stores were planning on hitting the hard road, fundraising and saving to record their new album in 2020, then all plans were cut and almost all of their live shows and side jobs ended. been canceled due to the pandemic. The songs were written during a time of personal devastation for Marks after his engagement ended and he moved to his family farm, where he still resides, in March 2020 to help his grandfather who was dying of lung cancer. . While there for the first time, he dove deep into his family's history and roots, which gave the album content and mood. They were able to start recording in mid-2021 after a year-long hiatus once things seemed safe to travel again.
"This album tells a story where everything is turned upside down; both personally and across the country," says Marks. "Together we have spent countless quarantine hours writing in the rehearsal room, growing as songwriters and musicians, and we are thrilled to present what we believe will be our biggest record to date. ." Jackfert, who is also a freelance composer and classical music broadcaster, collaborated with Marks on arrangements to shape the lush orchestral soundscapes.
Ille says, "I am honored that The Company Stores has chosen my voice as the vehicle to tell the stories of The Family Album. Each song is a collection of the people who shaped us and the times that shaped us. I hope listeners can connect with the musicality, storytelling, and creativity to feel at home when listening to it.
With keys and vibes up front, the album opens with a moody "Savannah" followed by the fiery "A New Leaf" which explores life's negative patterns, with the lyrics "Shit…what a year Sucker sent me to the next hemisphere…And now I wake up stunned.Right in front of God and everyone…But now…clarity…A view from the ground that I had to see myself for sure.To turn a new page …"
With its country western rock vibe, "Ways" continues this theme, but sees the narrator begin to recognize how the choices made have developed these patterns of behavior that produce similar results. "These old ways are not the best, just the ones I know… The paths forged over time in my mind decide where I go… Now I must find peace of mind, redefine my life…" "Ways" also sees special guests Walter De Barr [Song of the Year in Minnesota 2021, William Elliot Whitmore] and Jodi Hall on backing vocals. This song is dedicated to DeBarr, known for his soulful songwriting and deep, raspy voice, who sadly passed away shortly after recording with the band.
Jambase created the "Ways" music video and the song is the album's lead single, available now at thecompanystores.hearnow.com/ways.
"Maria" sees someone trapped in comparisons of old relationships and incorporates Latin styles. "Old Dog," told from two angles — the grumpy old dog stuck in his ways and the "Boy" who says bluntly "stop barking in the shadows" — has a bit of hip-hop on the verses and endings. heavy guitars and horns on the chorus.
"Fathers" examines how mistakes made can be passed down from generation to generation, stuck in a cycle. Marks, whose father was a pastor, says, "It's a very personal song, about my dad and his dad. I'm as honest with myself and listeners as I can be, I bring it all to the fore. In the minor key, the acoustic guitar and electric Fender Telecaster with tremolo effects along with the Spanish trumpet at the end give this a very Ennio Morricone Spaghetti Western vibe.
An ethereal "blue tide" calls for exploring the dark depths of oneself, while rock opera "There Went The Neighborhood" is about seeing the people you shared childhood dreams with deteriorate with the neighborhood in which you all grew up. "American Dream Girl" sees some time signature changes and shouts, "Hey, American Dream Girl. Who are you trying to be? You are in a dream world. Someone else's dream… But each filter veils a true identity.
"Some Sunday", composed and written by Micucci, has an R&B flavor, with an emphasis on bass and groove. The album ends with a Southern gospel rock vibe in "Castles & Cain," a song about trying to live up to your last name and realizing that the people you respect and even idolize have ups and downs like everyone else.
The name "The Company Stores" is a throwback to the old coal mines of West Virginia referring to the store in Appalachian coal towns during the 19th and 20th centuries where workers were paid in coal money or "scrip", leaving them with no way out. work the mines. This name not only shows the band's heritage, but also the gritty feel of their music and the significance of many of their songs about the struggles of the common man.
The family album is preceded by the 2017 release Little Lights, also recorded at Echo Mountain studio in Asheville, and their 2014 local debut album Rollin' In. . It's hard-hitting, it's poignant and it's pitch-perfect" and Jammerzine says it's "filled with strong emotion and empathetic harmonies laid down on an almost orchestral musical level".
The Company Stores says, "We look forward to the day when we can once again sing, dance, laugh and cry with you in a room full of music. Keep an eye on their website and social media for tour dates and other news: www.thecompanystoresband.com, facebook.com/thecompanystores, twitter.com/CompanyStoresWV and instagram.com/thecompanystores.
Pre-register and pre-order The Family Album at thecompanystores.hearnow.com.
The Company Stores – The Family Album – Track List
1. Savanna (4:08)
2. A new leaf (3:31)
3. Paths (3:47)
4. Mary (5:53)
5. Old Dog (4:58)*
6. Fathers (4:07)*
7. Blue Tide (3:47)
8. There was the neighborhood (2:43)*
9. American Dream Girl (3:32)
10. One Sunday (3:58)
11. Castles and Cain (3:54)
*FCC Warning: Please note explicit language
Edited radio versions are available for "Old Dog" and "There Went The Neighborhood"