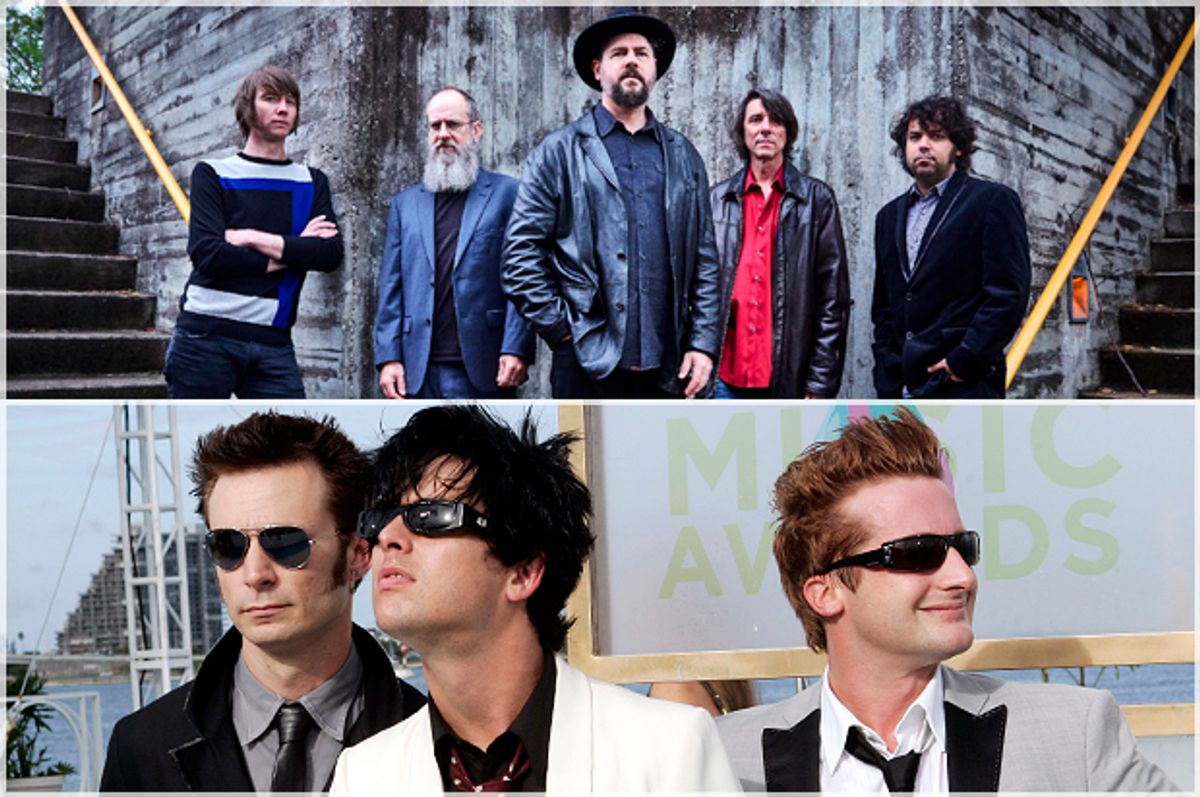 The New "American Idiot": Why Drive-By Truckers' "American Band" Is Must-Listen In The Trump Era
Rock music's best protest album in years wasn't supposed to happen – or at least the band that made it hoped it wouldn't be necessary. Patterson Hood, lead singer of the Drive-By Truckers, wrote "What It Means" in response to the deaths of Trayvon Martin and Michael Brown, unarmed black teens whose murders sparked the Black Lives Matter movement. "If you say it wasn't racial," Patterson wrote in 2014. "When they shot him in his tracks / Well I guess that means you're not black. "
Drive-By Truckers, who released the acclaimed LP "English Oceans " the same year, posted the lyrics on their Facebook page, and the band knew they had struck a chord. The post elicited hundreds of comments. Some fans were outraged and called the Truckers anti-police, while others applauded the shift in attention to the race. "It was like I screwed up or I was on to something," Patterson said. Rolling stone. Hood thought the track might be better preserved for one of his side projects, which include Patterson Hood and the Downtown 13 and his solo releases, or maybe it would look dated and he wouldn't use it. at all. What if, two years after the murder of Michael Brown, America finally stopped killing black people in cold blood?
This was not to be the case. 2016 added many names to a growing list of black Americans who have lost their lives to police brutality. In September, the death of Keith Lamont Scott sparked a multi-day protest in Charlotte, North Carolina. Police say Scott was armed and posed a danger to officers, who then opened fire on the 43-year-old. But his family said Scott, who became disabled after a brain injury, was holding a book at the time of his death. Officers shot Alfred Okwera Olango, a 38-year-old refugee from Uganda, for having a vape pen.
"What It Means", which became more and more relevant since it was written, would become the backbone of "American Band", one of the best albums of the year. Songs like "Surrender Under Protest," "Ever South," and "Guns of Umpqua" examine generations of racial injustice in a country that shoots first and asks questions later. "Ramon Casiano", the album's opening number, takes its name from a Latino teenager shot dead in 1931 by Harlon Carter. "It all started at the border," sings co-singer Mike Cooley. "And that's still where it is today." Carter would later become the vice president of the National Rifle Association, the national lobby group that advocated against tougher gun control laws.
The shadow of Casiano's murder, which Carter said was in self-defense, hangs over "American Band". On the group's eleventh album, Drive-By Truckers tackles themes of racial animosity, immigration and gun violence. After returning home from the war in Afghanistan, the anonymous "Guns of Umpqua" narrator finds himself barricading the doors to prevent his classmates from being murdered in the Umpqua Community College shooting in 2014. The song mixes up John Cougar Mellencamp's narration of the reality of America today, a nation that has failed to prevent young people from being killed in cold blood. "My friend Jack is having a baby," Hood sings. "And I see a bird soaring through the clouds outside my window / The sky is calling my name from the hallway outside the door."
"American Band" is until 2016 what "American Idiot" stood for in the Bush era – a raging protest album against the political machine. The record will be widely read as an allegory for Donald Trump's White House candidacy, a campaign that has given white supremacists and far-right groups an unprecedented national platform for bigotry. The Truckers, however, historize the roots of hatred on "Surrender Under Protest" by returning to a familiar subject: the complicated legacy of slavery in the South. Following the 2015 shooting of nine people at the Emanuel African Methodist Episcopal Church in Charleston, South Carolina, the Confederate flag was removed from its State Capitol.
Hood wrote about the flag removal in an essay published in the New York Times Magazine last year. As the singer explains, the Stars and Bars are often referred to as a symbol of "heritage, not hate," but that's hard to reconcile with the history of Confederation, where the flag was hoisted by bands. like the Ku Klux Klan. He claimed that it is endemic to the "character of the South". "The South loves myths and legends, and while they may have roots in truth, they often overlook certain complexities," he writes. "We are raising our children steeped in 'Gone with the Wind' folklore and pretending that not everything we have seen in '12 Years a Slave' has happened. "
Over the years, the Confederate Flag has become increasingly associated with the genre that Drive-By Truckers occupies, albeit reluctantly: southern rock. The loosely defined sound evokes a certain type of ideal, a vision of Southern pride that rarely deals with how this concept has been used against anyone who was not white. Lynyrd Skynyrd, more than any other group, exemplifies this tradition. In its iconography, the group's name is often emblazoned on the Stars and Bars. The Truckers have never shied away from its messy musical heritage, while acknowledging, as in songs like "Neil and Ronnie" which evokes the musical feud between Neil Young and Skynyrd, the realities and intricacies of race relations in the South. "Neil helped carry Ronnie in his coffin to the ground," Hood sings. "And as I think, we southerners need them both."
Although Skynyrd was apolitical in its heyday, the group has undergone a right-wing conversion in recent years, performing several times at the Republican National Convention. Charlie Daniels, whose "The Devil Went Down to Georgia" remains a staple of classic rock radio, performed alongside the rest of the band in 2004. Daniels, a former Jimmy Carter supporter, has followed the conservatism of his genre. A bonus track on his 2001 live album with the Charlie Daniels Band speaks directly to American Muslims: "It's not a rag / It's a flag / And we carry it on our heads."
The genres that appeal to listeners south of the Mason-Dixon line are generally not known for their liberalism. Shortly after Toby Keith threatened to "put a boot in [the] ass "of America's enemies, the Dixie Chicks were widely protested for their 2003 criticism of President George W. Bush. Longtime fans of the all-girl group burned their albums, while radio stations released the Chicks cover of Stevie Nicks' "Landslide" ", then a top ten hit, from circulation. The song practically disappeared in a matter of weeks. This reactionary spirit deserves a mention in Trucker's" Once They Banned Imagine ", which discusses the 2001 decision to ban John Lennon's classic anti-war ballad "Imagine," from Clear Channel stations: "With or against something was done for us / And it seemed like something finally did."
As a protest and historic document, the power of "American Band" is the way it brings genres together too rarely in conversation. Drive-By Truckers, which recorded the album in just six days, was inspired by socially conscious artists like Beyoncé, Run the Jewels, and Kendrick Lamar, all of whom speak about the trauma of black America in a time of relentless violence. . For those who didn't choose "Lemonade" or "To Pimp a Butterfly," an album like "American Band" is an important bridge to a larger conversation.
Hood understands firsthand what it means to bring these divided communities together through song. The musician is the son of David Hood, who was a member of the famous Muscle Shoals Rhythm Section. Located in Sheffield, Alabama, Muscle Shoals Sound Studio hosted some of the most important artists of its time, including Aretha Franklin, Bobby Womack, Percy Sledge and Wilson Pickett. These were artists who expressed the pain and joy of a community struggling for civil rights during the tumultuous 1960s, and their session musicians were aptly white. Fifty years later, black musicians continue to lead the way, but "American Band" proves that their allies in the industry are on their side.