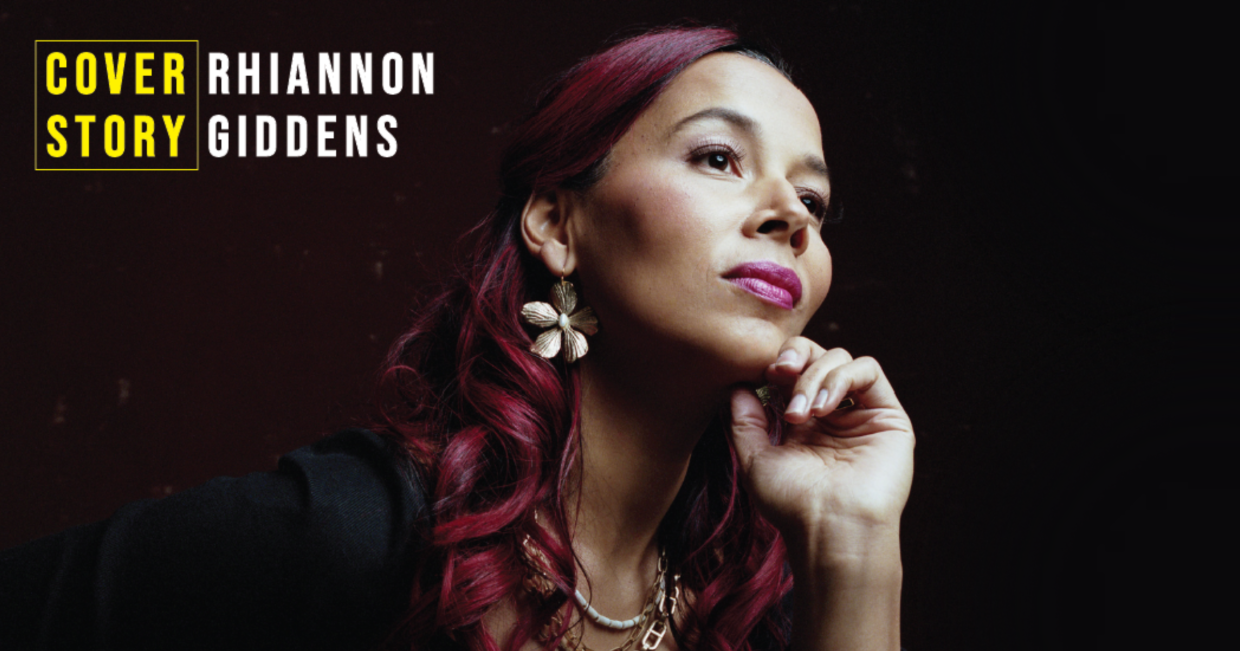 Through the lens of American music, Rhiannon Giddens tells her story
Grateful Dead guitarist Jerry Garcia once said that the goal is not to be the best at what you do, but the only one at what you do. In a way, that applies to Rhiannon Giddens' high-profile career – except what she does is pretty much everything.
It can be more than a little dizzying trying to keep up with Giddens' far-flung actions across multiple platforms as a musician, actor, songwriter, composer, activist, musicologist and more. His work draws from a range of classical and folk traditions, attracting accolades including the 2016 Steve Martin Award for excellence in banjo and bluegrass, a 2017 MacArthur Foundation Genius Grant and a Grammy Award for Best Folk Album for They call me home.
2022 found Giddens touring and collaborating with various ensembles – the classic tilt Silk Road collective, the Nashville Balletblack american women supergroup Our Indigenous Girls and with multi-instrumentalist Francesco Turrissi – while the Spoleto Festival launched its very first opera, Omar. Somehow she also finds the time to do the Code Aria podcast for the Metropolitan Opera, too.
Phew.
As for future plans, Giddens has several projects underway including hosting the 2023 PBS series. My Music with Rhiannon Giddens. In the meantime, it is coming out in bookstores for the first time this fall with To build a homethe first of his four children's books to be published by Candlewick Press.
BGS: Thank you for taking the time. Where are you calling from?
Giddens: Ireland. I'm mostly here when I'm not on the road because that's where the kids are. It's hard. I have them half the year, so I have to fit a year of work into the other half because the bills don't pay themselves. It would be different and easier if I was still with their father, but we are no longer together and I am alone when I am with them. So I'm a single mom, working full time to cram all the work in as little time as possible. It's hard not to feel pulled in so many different directions, while constantly feeling jet lagged.
I haven't been able to get much balance, to be honest. I'm doing everything I can to fit three lives into one and something has to give because I don't want it to affect my children. I've said this many times, but I just need to start clearing some space on my schedule. In my professional life, a bunch of projects have been pushed this year because of the pandemic, which has been crazy. I'm lucky to have a lot of work, because a lot of people don't. But it is sometimes difficult to appreciate what is happening.
Your first children's book comes out, To build a home, illustrated by Monica Mikai. How did it start?
It started out as lyrics, and that one was kind of always a song. Sometimes I write poems that turn into songs, but this one was always lyrics. It dates back to the pandemic, when Ireland experienced a difficult lockdown. This was when the protests against George Floyd started in 2020, which was super frustrating to watch. I was here feeling useless and sitting at my kitchen table thinking, "Forget Covid, I'll be on the front lines in the United States right now." I tried to explain to my children why I cried at unusual times.
At times like this, I often write about it. "Do not Cry," that one was after the Charleston church massacre. Emotions will pour out: "What do you guys want? You brought us here to build your goddamn country, now what? It became, "You brought me here to build your house," and it went from there. Yo-Yo Ma asked me if I wanted to do something for Juneteenth, and this song was perfect for that. So I recorded and filmed my part and we aired it on June 16, 2020 to an incredible response. It made me feel a little better.
When did he go from song to book?
It was actually on Twitter, where someone said, "Hey, this should be a children's book!" And that made me think, huh, yeah, good idea. I wanted to write a book about American music history, and my book agent Laura Nolan waits patiently, checking in periodically. So I asked him, "What do you think of a children's book?" Here is an idea. We held meetings, Candlewick Press came in with an incredible offer for four books, and this is the first. We made a deal and they sent us a short list of female illustrators – all women of color, I didn't even have to ask – and I chose Monica, which was pretty much the start and the end. I never spoke to Monica, that's how it works with children's books. Authors and illustrators communicate via the publisher without consulting each other, each doing their own thing. The next thing I knew was that I was sent a sketch of the story she took from the song, which was amazing. I was totally blown away and might have cried a little. When I saw his finished work, I couldn't have imagined it better than that.
It seems so strange that writers and illustrators work completely separately on children's books.
I like the fact that it's separate. She is an artist and I am also an artist, and these are two different forms that come together. She brought her art to my words, so I feel like I've done what I'm supposed to. She got it without having to talk to me, which is the point of the book. It was an amazing experience, and not so different from when I brought another musician into the band and said, "Do what you feel like doing, and I'll let you know if that's what I'm doing. . But I never start by saying "Do this" – unless he's telling a bassist, "Don't play 2-5-1 bluegrass bass in everything I do." I hire them to bring their expertise, working with them to do their job.
The next book will be we could fly, which will be out next year, based on a song I did with Dirk Powell and illustrated by Briana Mukodiri Uchendu. And the draft of the third is done, approximately Joe's first violin – riffing on my mentor Joe Thompson. The fourth will focus on the banjo. But I'm really excited to pay tribute to Joe in this way because I wanted to write this since he was alive and he would tell the story of his first violin. What I wrote isn't exactly the same as the story he was telling, but I sent the draft to Justin Robinson [her fellow Carolina Chocolate Drops alumnus]and he gave her a thumbs up.
Tell us about the book on the history of American music.
It's American music through my lens, based on all the speeches, keynotes and lectures I've given over the past few years. It is mainly about the myths of American music, like the idea of ​​the origin of the banjo. It is the most obvious myth, that he was born in Appalachia and invented by Scottish-Irish immigrants. No, they didn't, even though they played it. The banjo came from Africa. So what are myths and whose intentions do they serve? It's the idea of ​​looking at the culture we have in America through music, the misunderstandings we have and how it hurts us as Americans by obscuring a true understanding of who we are as a country. Basically, I say shit all the time, and I want to put it into book form.
You were just in Tryon, North Carolina filming for My Music with Rhiannon Giddens at Nina Simone's birthplace. What can we expect from your show?
It's me who takes over State of Music by David Holt, starting next year. This shoot was really special. I had never been to Nina Simone's house before and it was cool even though I'm not a person of things and places, you know what I mean? Maybe I'm just too cerebral in an emotionally deficient way because it seems like these experiences don't affect me that much. But I like to see how they affect others. It was really joyful to see Adia (Victoria) in this space, how affected she was with tingles all over her back, and my sister was blown away when she visited. For me, what is important about Nina Simone is captured in her songs and her performances. The rest, I'm not sure, standing in his childhood home does anything for me. I live so much in the ether, the material aspects of life don't hit me as hard. But that's okay, and others think differently.
After studying opera at university and then folk music, you performed on an opera stage for the first time in nearly two decades this year – Porgy & Bess in your hometown of Greensboro, North Carolina. How does it feel to go back to opera after so long?
It had been 18 years and it was really interesting to reconnect with that and realize how much I had missed it. I loved Chocolate Drops and everything I've done since, but it was more of a calling than pure joy because of the work I do. There were a lot of transcendental moments on stage, but I realized that I had missed a lot. Like standing on stage and just singing, no mic, just you and the orchestra and other singers. A beautiful thing. It was good to come back to it as a performer, writer and composer.
As an art form, opera has such power. He gets a rap bum, the way he was picked up by the elite as a way to differentiate himself. They go there not because they like it but because that's what they are supposed to do on some level. It was great to get back into the art form, to commit to it as herself with no expectations as a young singer or having to deal with all the dead white dudes in Europe. I came into it with a totally different perspective, with this base that I had years ago.
With all you have to do, it must be hard to find time for your biggest project, composing a hamilton-esque historical musical about the 1898 massacre in Wilmington, North Carolina. What is the status of that?
I am in constant contact with my collaborator, John Jeremiah Sullivan, who is himself a slow burner. The New Yorker maintenance profile what he did to me took five or six years – I went through three different managers! But he takes time because he's extraordinarily thorough and keeps finding important things. I continue to want to be in this space with him, to come together and create. I think we are on the verge of getting the institutional support we need. I don't like to force things. Anything ready to go, I try to create space for it and so far things have been going well. Another project has just arrived and it could start before Wilmington, or not. It depends on the time and the co-creators, where they are and what they are doing. But it's an important story and we're going to do it.
---
Photo credit: Ebru Yildiz