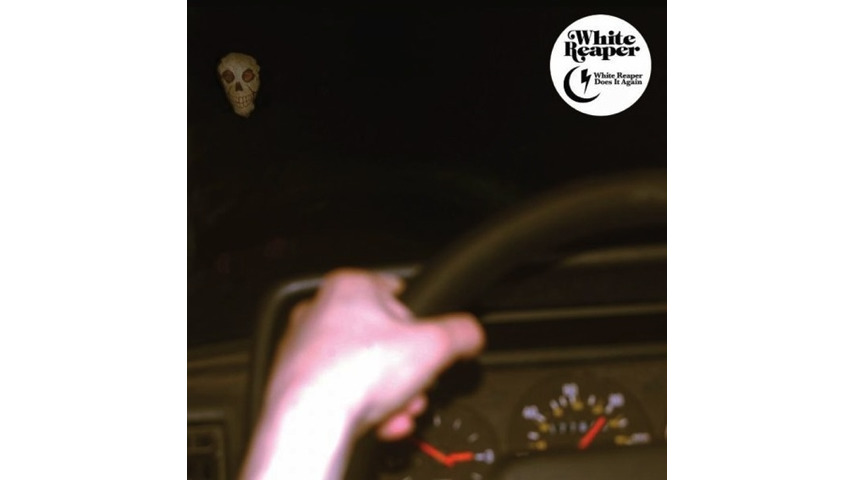 White Reaper: Review of the Best American Band in the World
The cliché "They're better live" was invented for bands like White Reaper. The records are good, but it's on stage that the wonderfully scuzzy mix of pop-punk and garage rock becomes stratospheric. It's rock for rock, with the playfully shameless stage vocabulary of an '80s hair-metal band: kick-flips, guitar solo duels – arrogant moves an average introverted indie shuns like asbestos. The band's Wikipedia page claims that they've already performed for 19 straight hours in Berlin, which is surely a joke, although it is a testament to White Reaper's live endurance that it seems believable.
Maybe that's why The best American band in the world, the Kentucky band's devilishly catchy second feature film, opens with the roar of an approving crowd. It's not a live album, and it feels like a large audience crammed into an amphitheater, the kind of place White Reaper could be headlining in a more excellent world. The emerging song, which shares its cheeky title with the album, is pure self-asserted cock-rock ("Gather and Dress to Kill / Lace Your Boots and Crush Your Pills"), a motivational speech for greasy-haired dirt bags.
On the album, White Reaper manages to distill all the allure and arrogance of "The Boys Are Back in Town" by Thin Lizzy in a single set of 10 songs. The production is a little lighter and less muddy than that of 2015 White Reaper does it again, and the songs constitute the quartet's most secure collection to date. Two of them ("The World's Best American Band", "Little Silver Cross") even exceed the four-minute mark.
There aren't many surprises; White Reaper mostly stays in his lane, risking redundancy on some lesser tracks ("Daisies"). But the hooks are relentlessly strong (see: "Judy French", "Tell Me" or "The Stack" with its ascending chord pattern), Tony Esposito's mocking voice is hoarse and muscular to a good extent (think Paul Westerberg with a bad head cold), and the riffs — well, they're riffs. The choppy guitar of "Eagle Beach" is a gem, and on "Tell Me" you can hear your fingers slide across the fretboard between muted power chords. Also included are subtle production flourishes (the piano in "The Stack", a xylophone track on "Daisies") which serve to brighten up and broaden the band's sound.
This group is unmistakably retro in sound and style, although the decade it refers to is open to debate: glimmers of the early Kinks, garage revival of the early 2000s (Vines, Hives, et al.), A bit of '70s glam. White Reaper also seems to share his love of bombastic hard rock with contemporary bands like Japandroids and Beach Slang. If the success of these groups is any indicator, perhaps the best American group in the world will arrive at the headliner of this amphitheater in a decade or three.